Memorial Work
After some thought we decided to carry out some memorial work in memory of Oliver. Both pieces are now complete, one is a bench dedicated to Oliver on the Freeman's meadow, Stamford and the other is a carved memorial plaque next to an oak tree we planted..
At the age of 18 Oliver would have been made a Freeman of Stamford as he was the son of a Freeman. This right is passed on from father to son or from master to apprentice. Therefore it felt a fitting tribute to install a bench on the Freeman's meadow.
The bench is made from air dried solid oak and was built and engraved by myself, Oliver's daddy. The bench was constructed using mortice and tenon joints. I then had the nervous task of carving his name into the large top piece of the bench. It took some patience but I completed it without any mistakes. It was then sanded down to a fine 400 grade finish and sealed with danish oil.
The final installation was carried out by myself, his two godfathers (Neil and Barnaby) and his uncle Ed. It was an emotional event but it felt right at the same time. Please do go down to the meadows (find the green arrow) and enjoy a few moments of peace to reflect on life............
So it all started with 3 rectangular pieces of oak. First the tenons were cut into the top of both legs.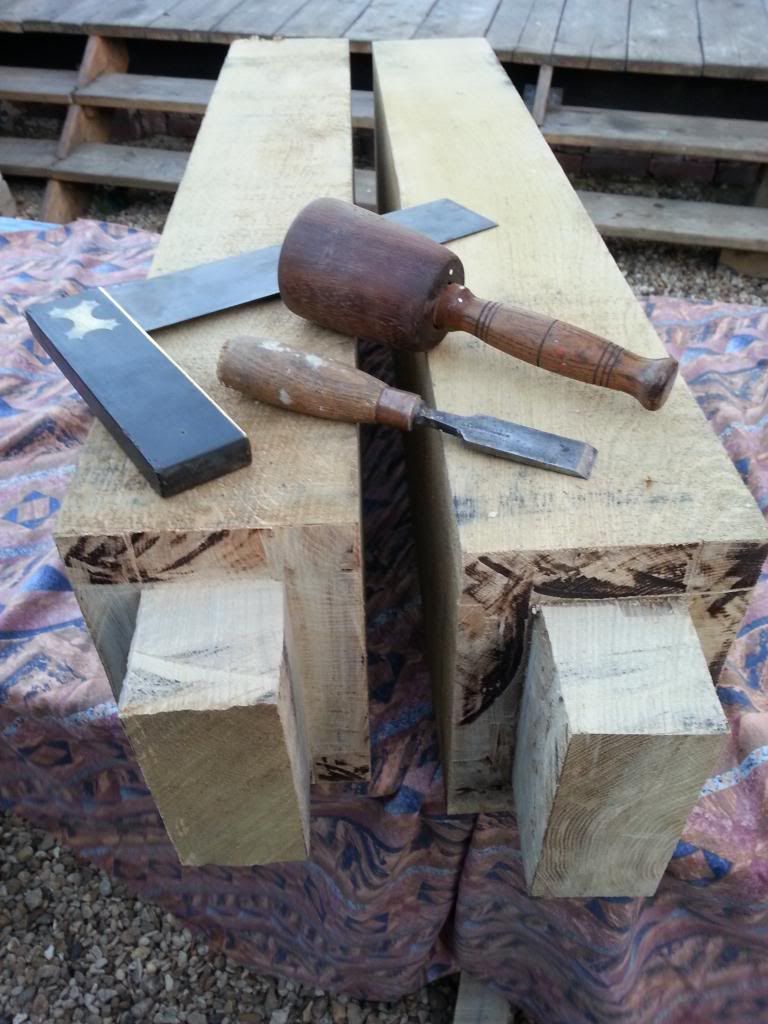 Initial sanding and shaping of the top piece.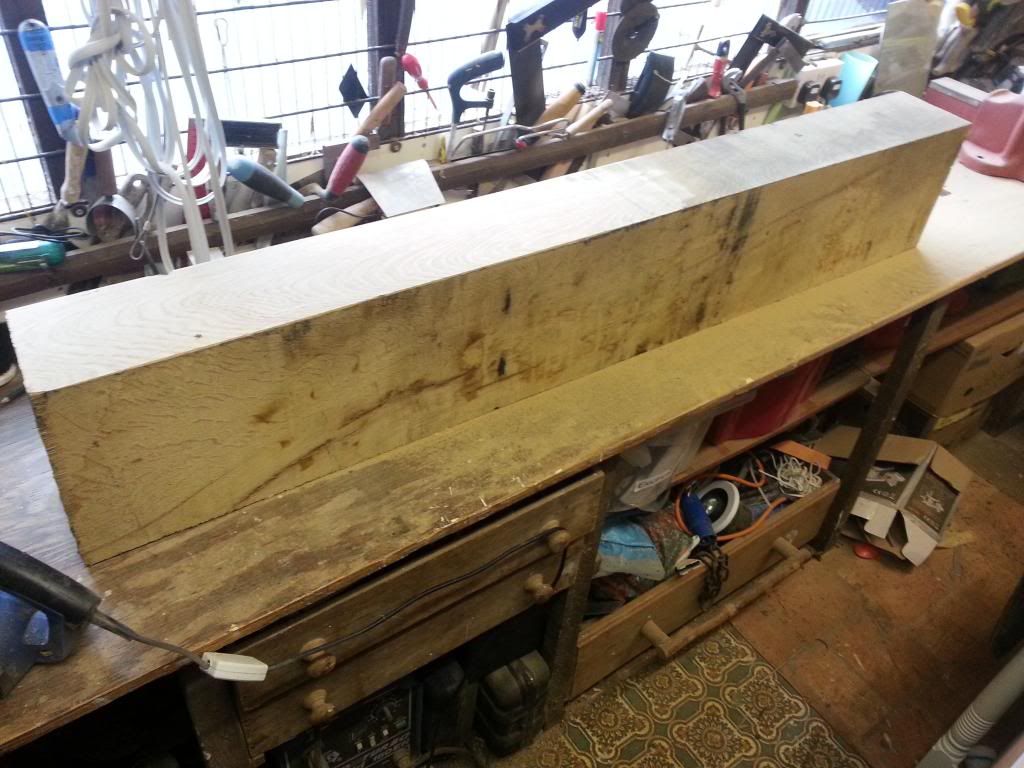 The mortices were then taken out down to a depth of 75mm.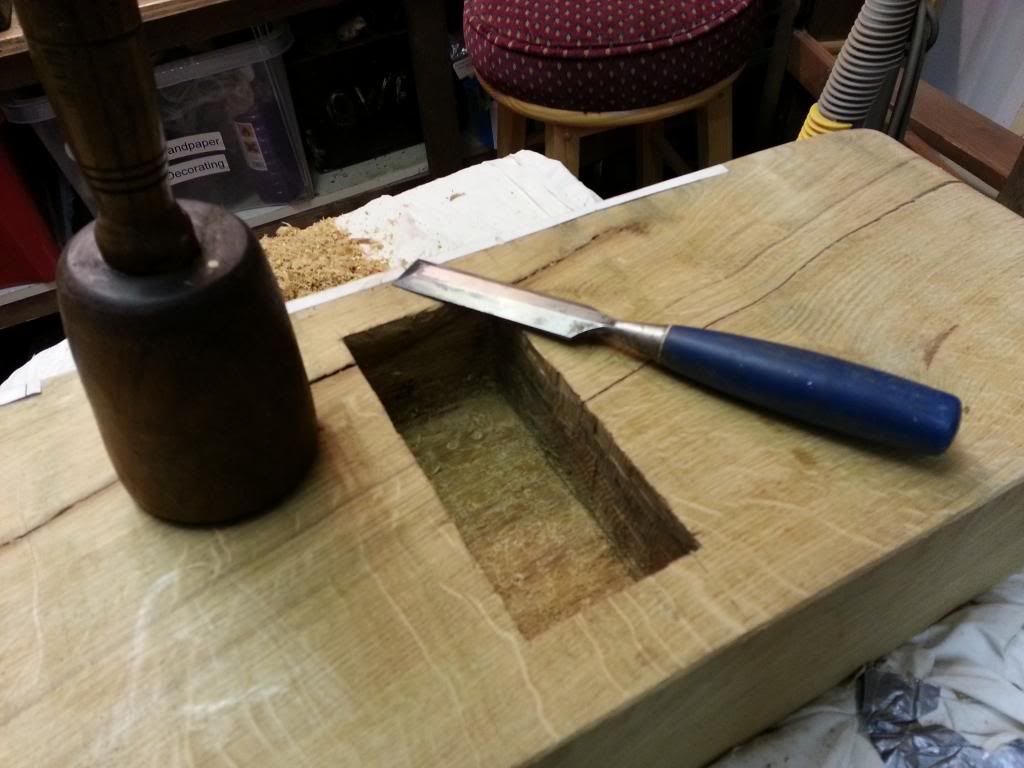 Now the tricky part, the carving!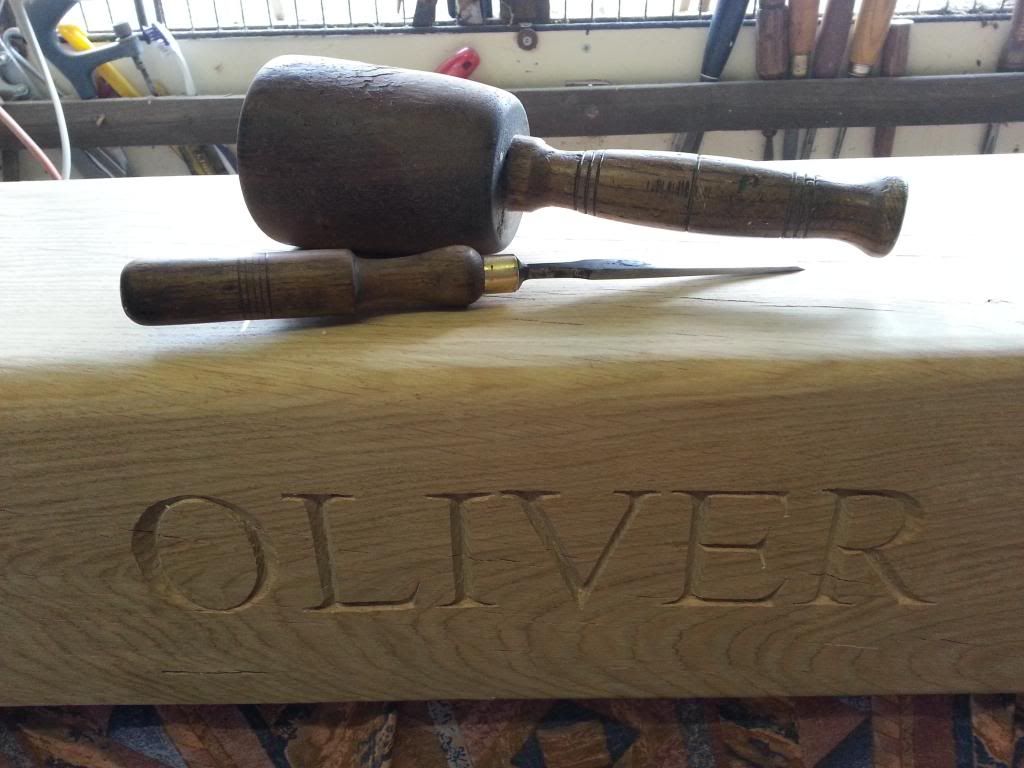 Carving complete with no mistakes, just a few minor cuts to me.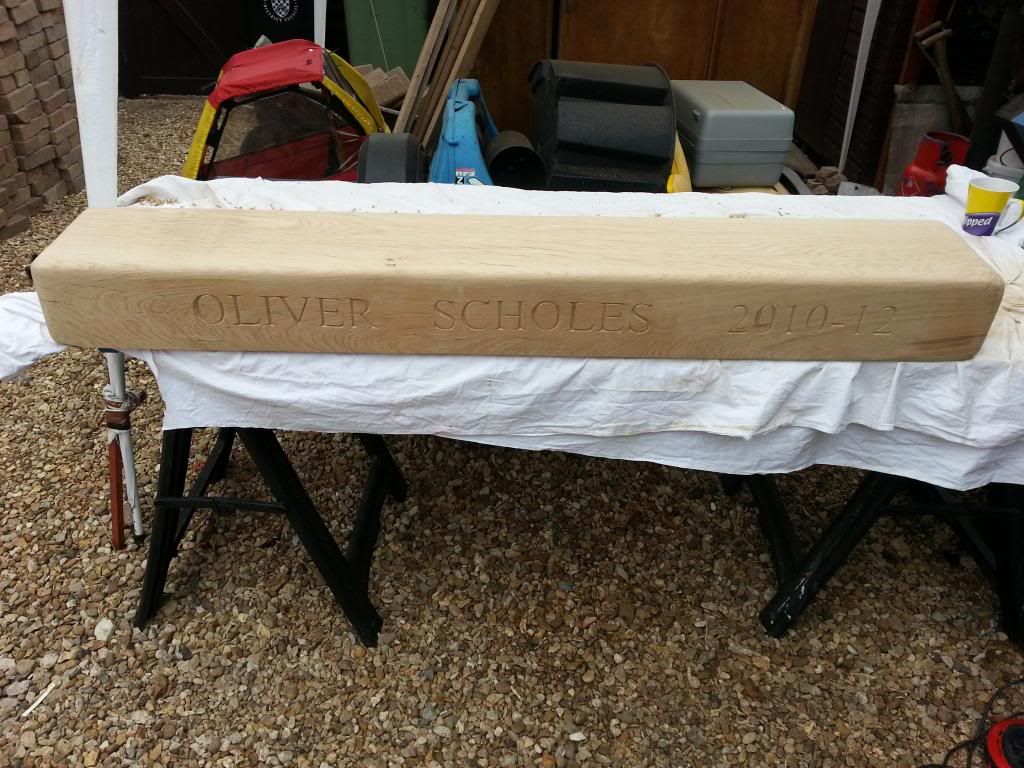 Final check of the joints before gluing and clamping them.
Now the cavalry arrive to help transport and install the bench.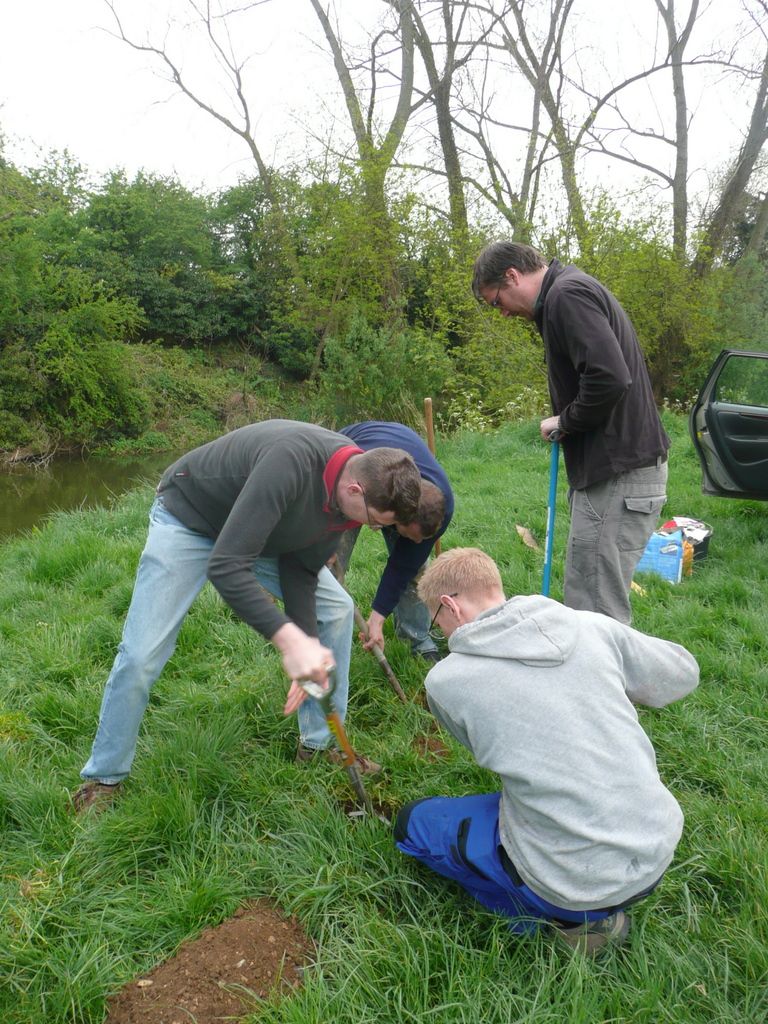 It is not light to be lifting in and out.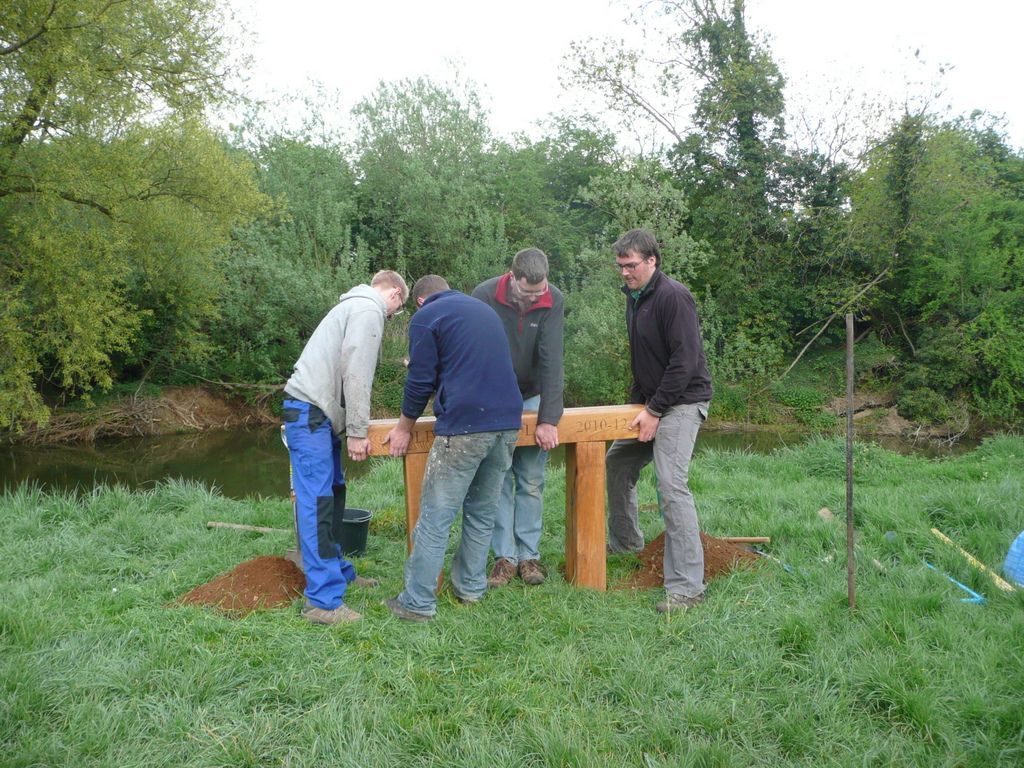 The all important spirit level brings out the engineer in me.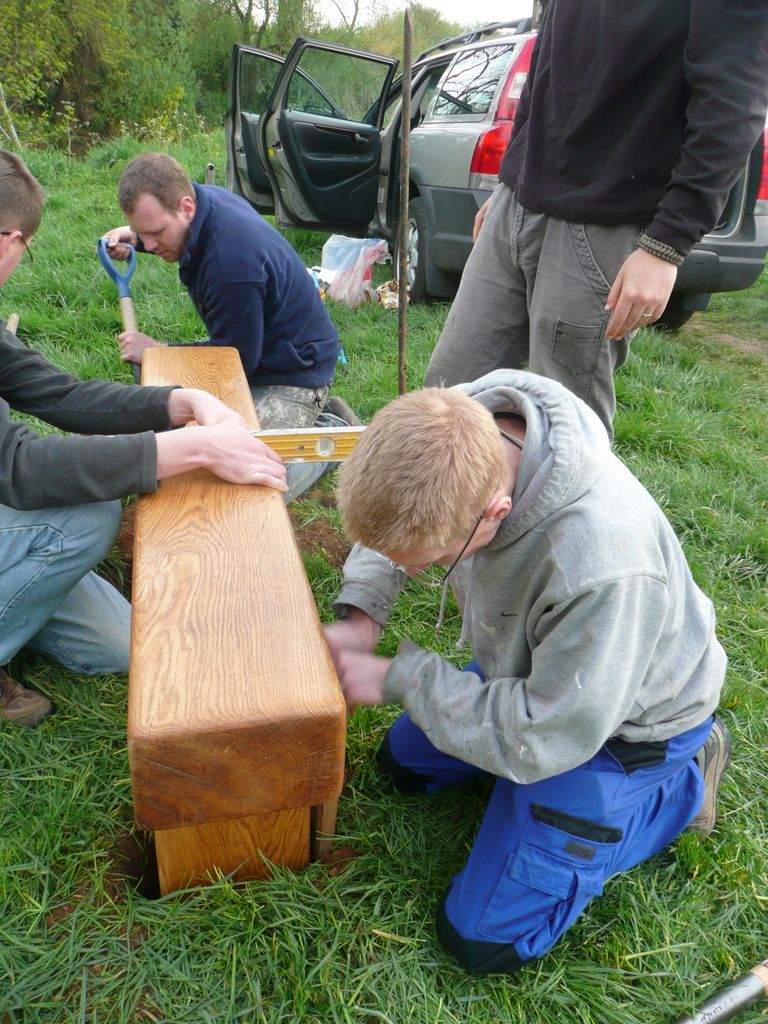 The four installers (Ed, me, Neil and Barnaby)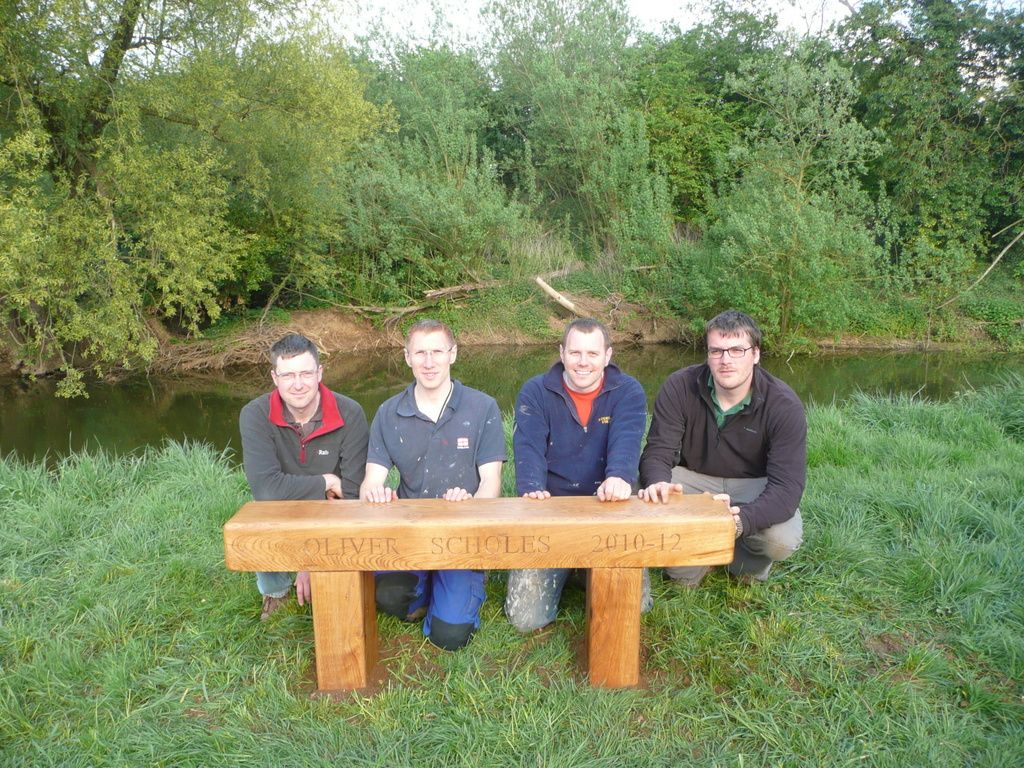 In all its glory.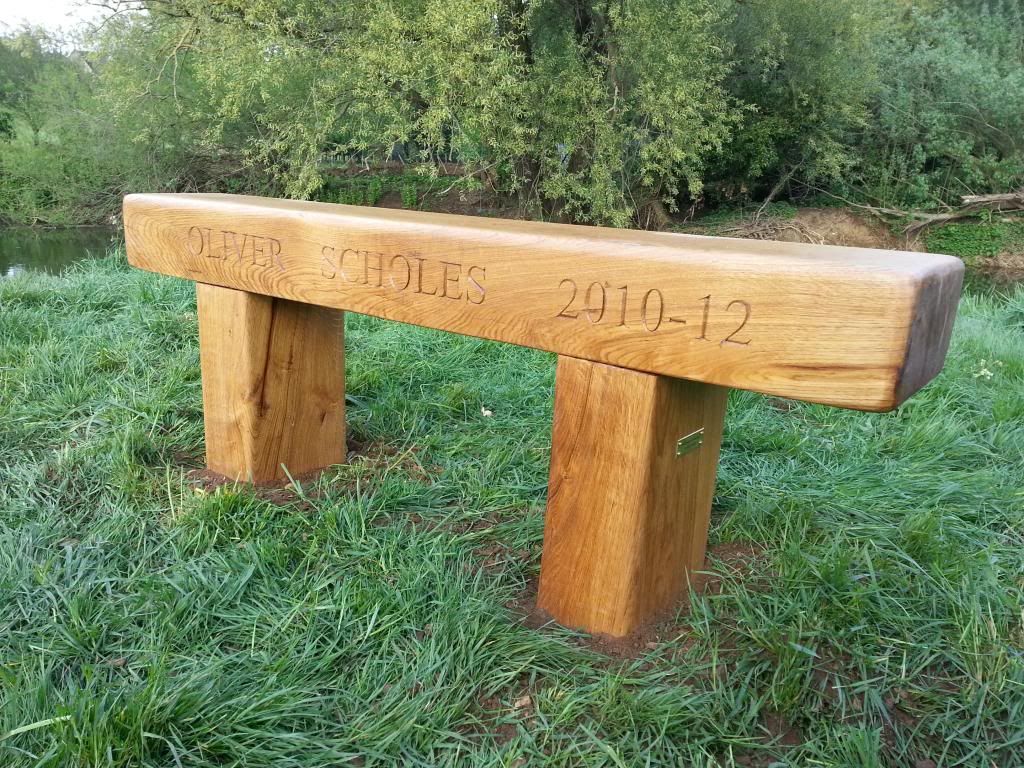 The brass name plaque on the opposite side.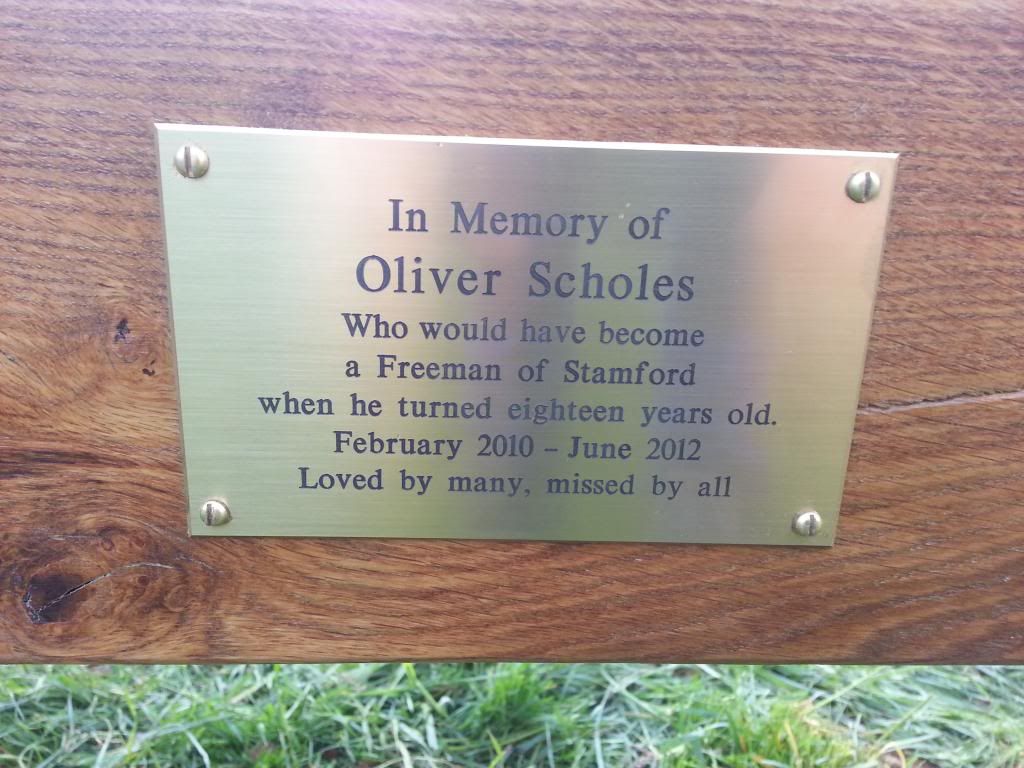 One proud daddy................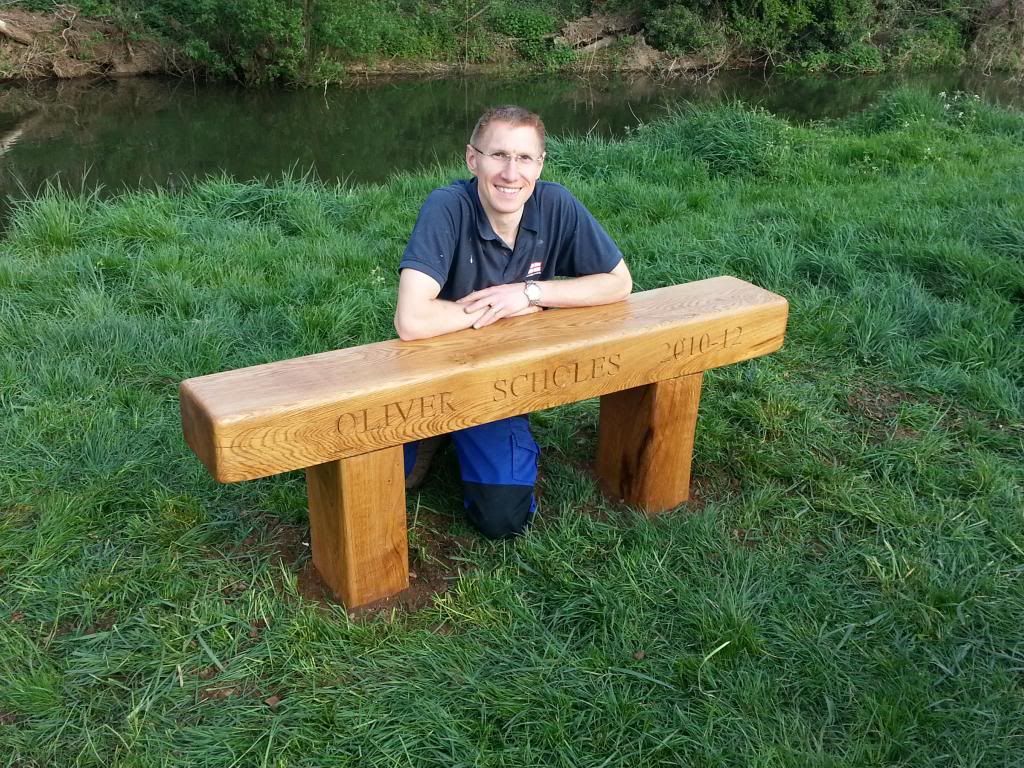 So the next project was to make a plaque for his resting place. As he was a big Thomas the Tank Engine fan it seemed right to engrave him on the plaque. So I started with carving his name, the easier part of the plaque.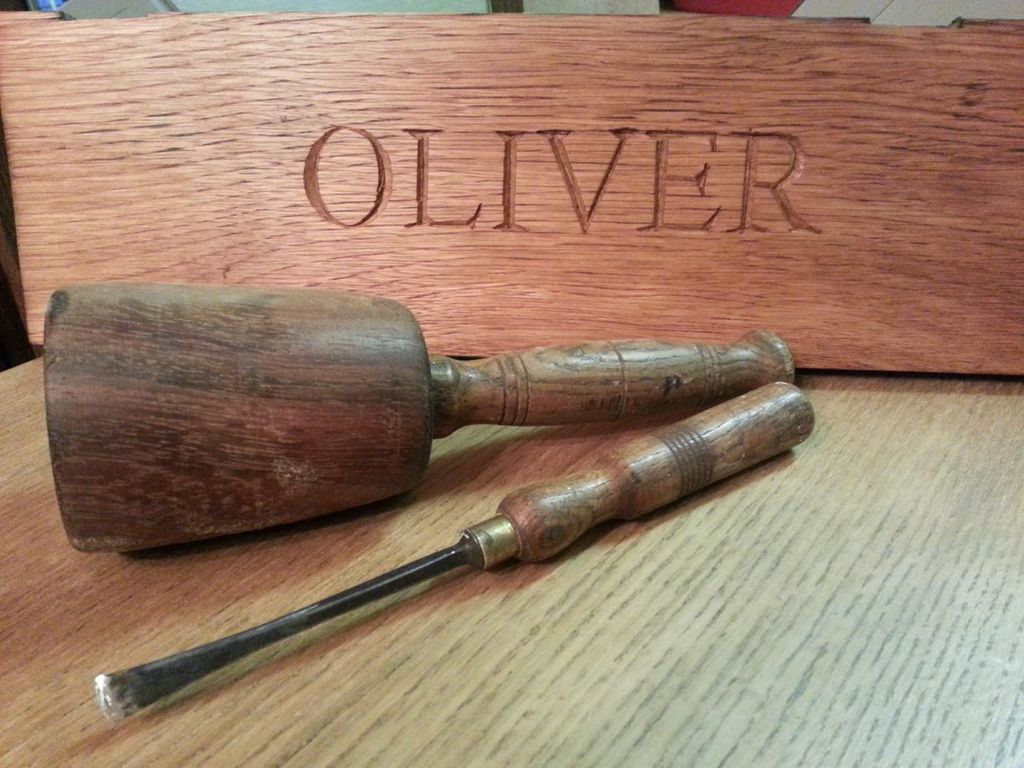 Then came the tricky part of carving in Thomas the Tank Engine.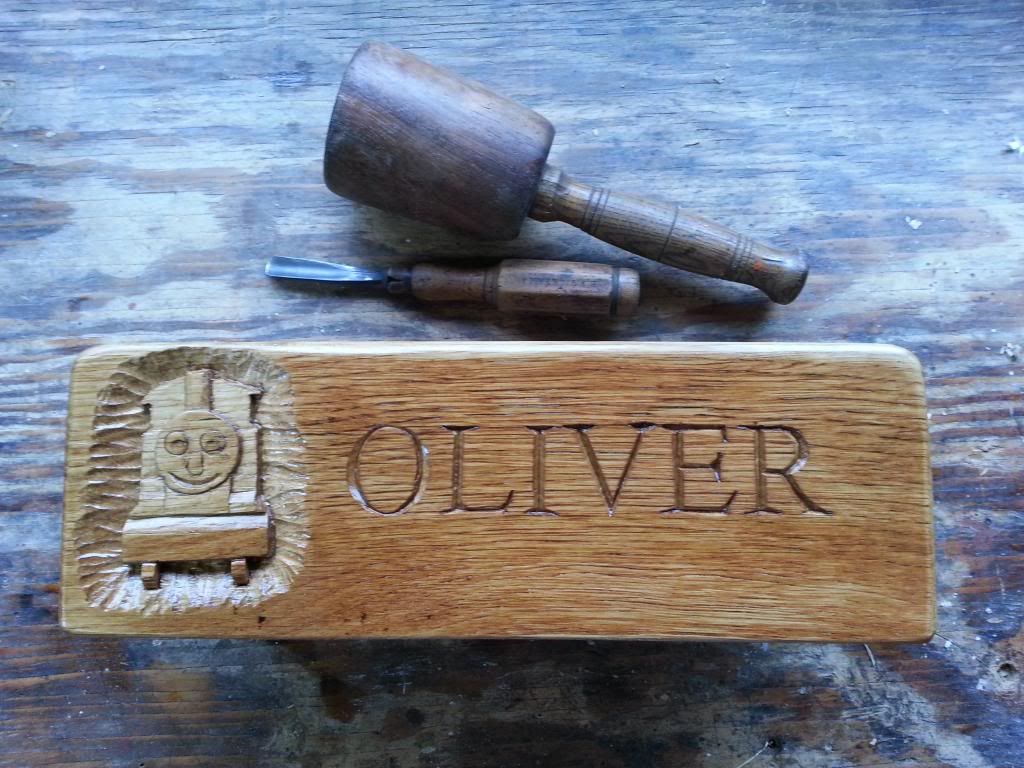 Then the installation.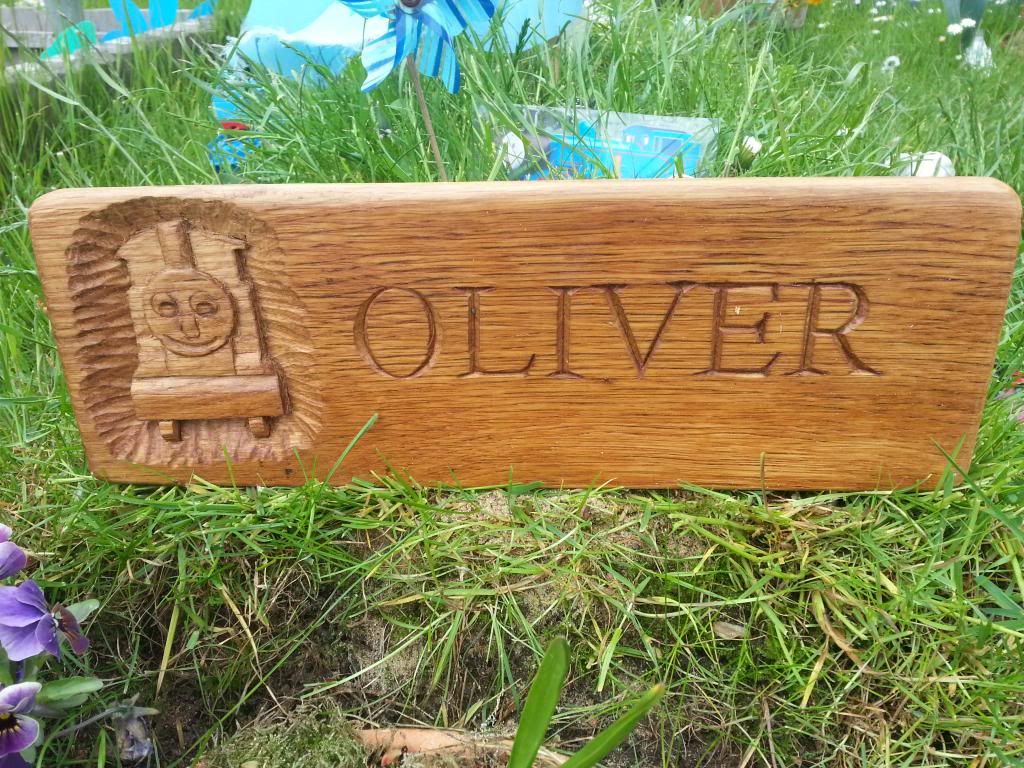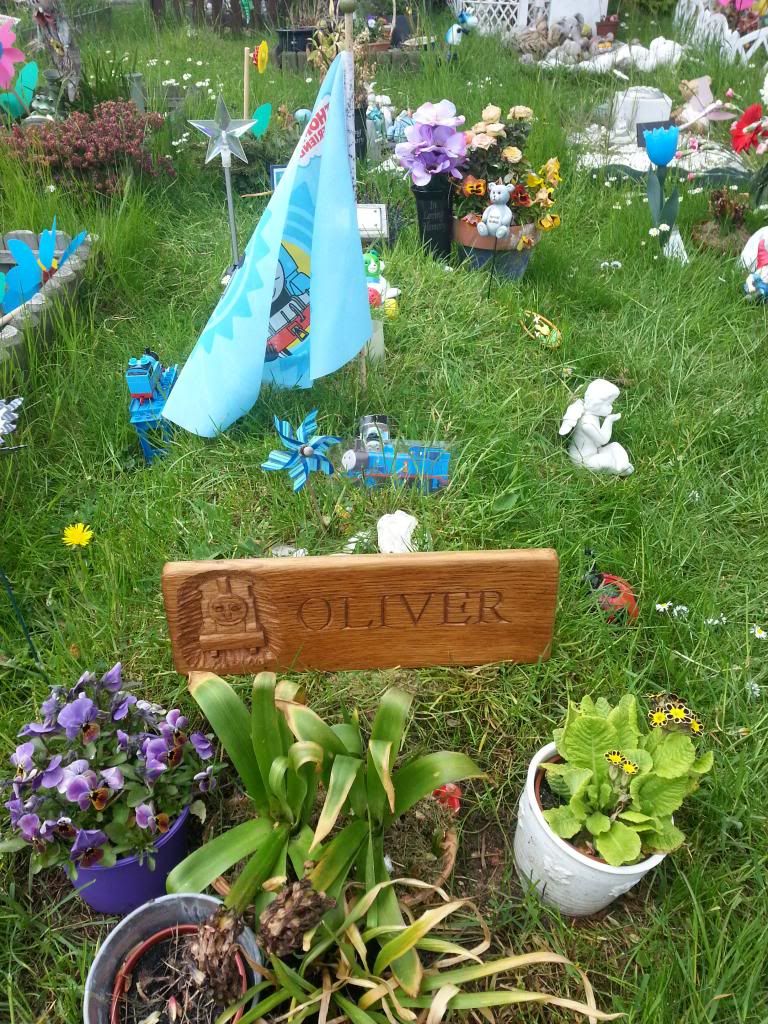 For anyone wishing to visit his resting place and spend some time with him a plan of the cemetery can be viewed here, he is in section 'O' so he can play with the other boys and girls who are too beautiful for this earth.
It was always our intention to plant an oak tree on the meadows along with his bench. A classic quercus robur oak tree was chosen from Barchams. To match the tree I again used an air dried piece of oak with a carving. Oliver always loved ladybirds and would always point to them when he spotted them in a hedge or when he was out playing so it seemed like a good choice. I sat the ladybird in a carved out leaf to give it some context.
First I had a practice in a spare piece of wood. Luckiy it turned out very well so I made it into a smaller memorial plaque that I gave to my parents for their garden.

I then had the nervous task of duplicating this onto the real plaque and adding the writing too. Here is the finished piece in my workshop.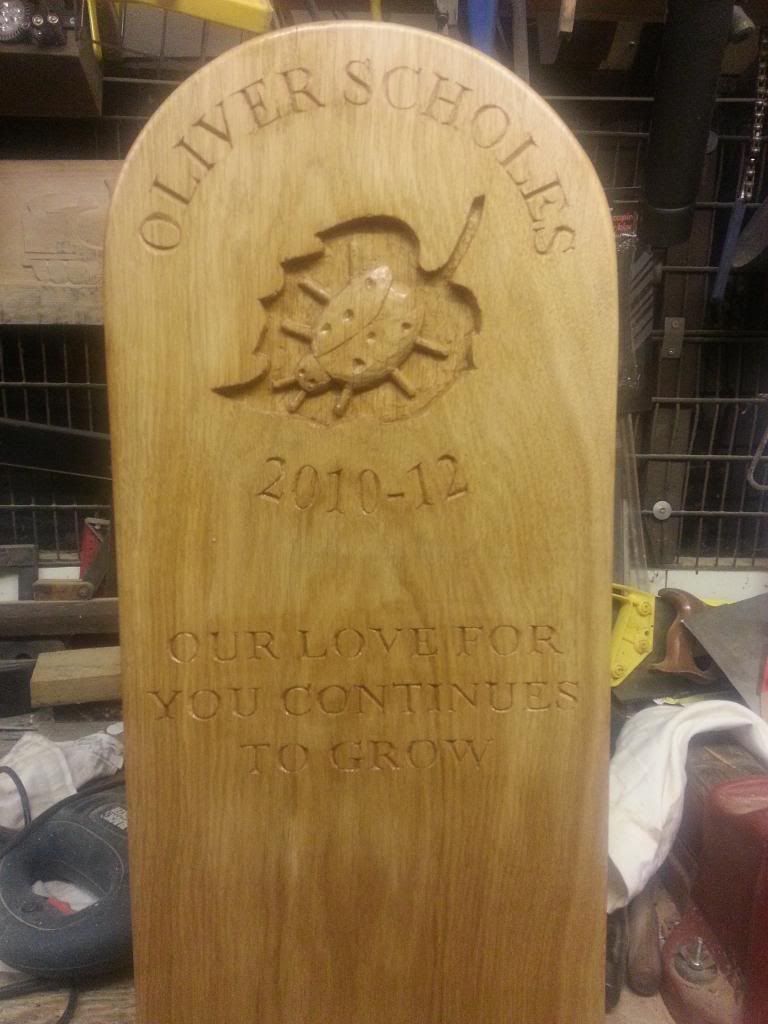 Then I had to get my brother and his van down to the meadows for the installation. It was quite dig but it was soon planted and the plaque planted alongside it.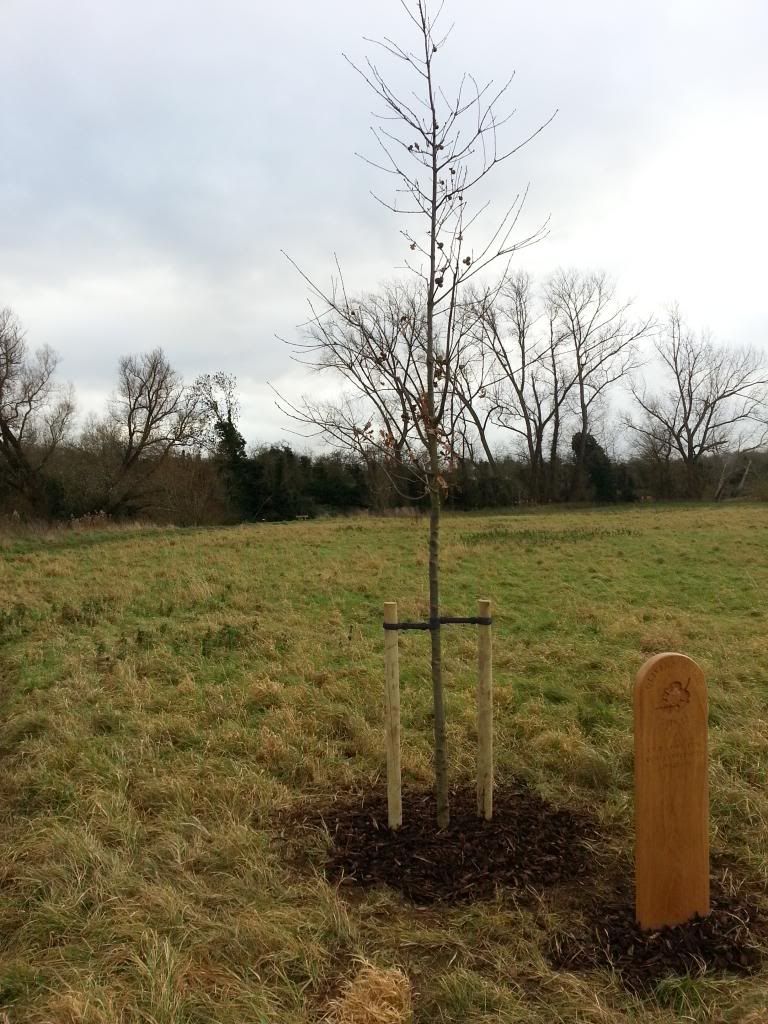 Then came Oliver's younger brother Toby to test the tree was sturdy enough.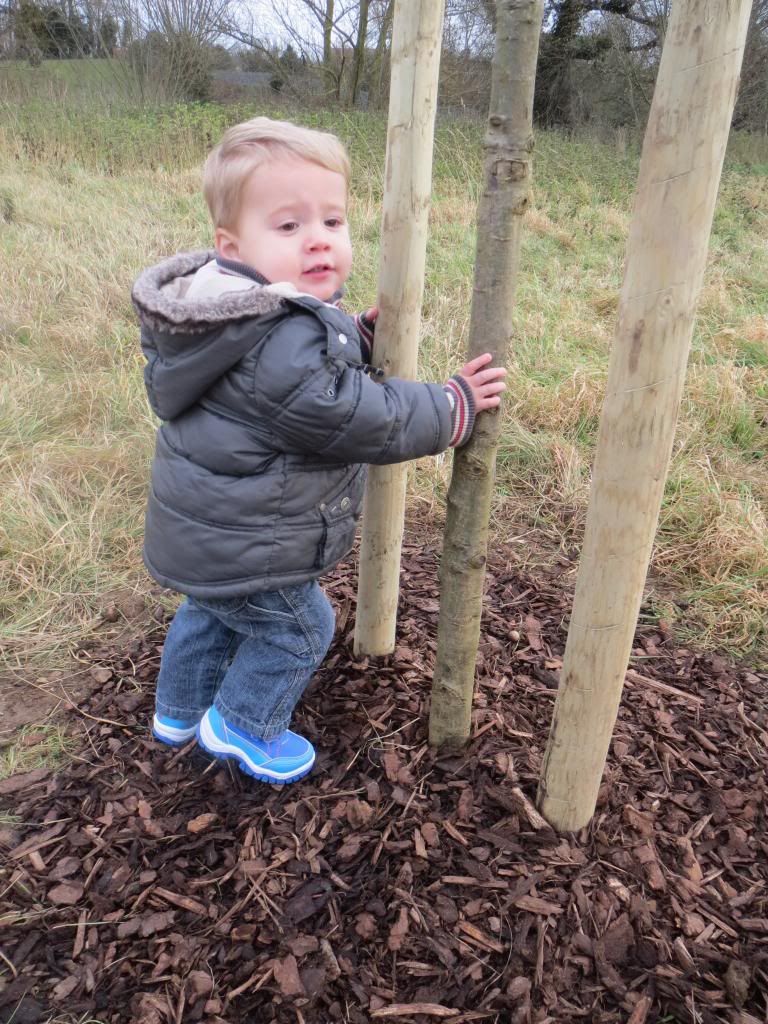 Then to check the plaque was sturdy enough.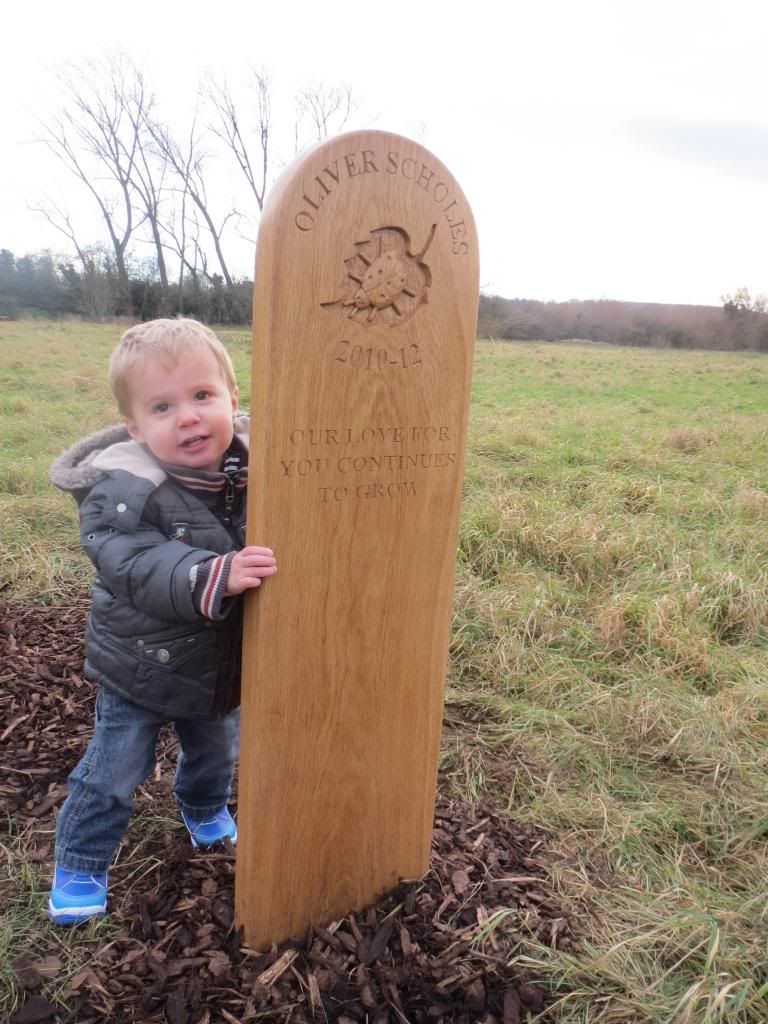 Then finally a family picture.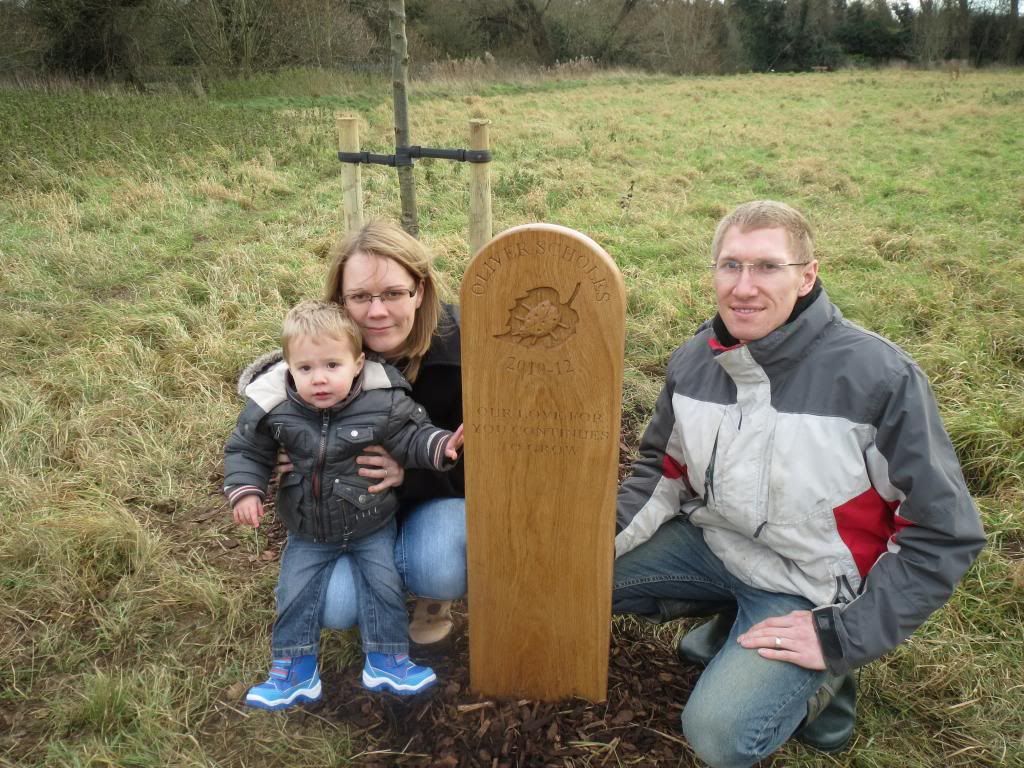 If you like what you see and would like to discuss commisioning me to build a bench with engraving then please email me on commisions@10kForOlly.co.uk. A big thank you to Glynn Mould and his brilliant carving courses held at Sacrewell Farm.
GetSimple Features
XML based data storage
Best-in-Class User Interface
'Undo' protection & backups
Easy to theme
Great documentation
Growing community
This is your sidebar text. Please change me in Theme -> Edit Components